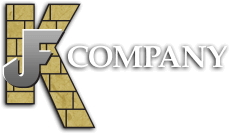 Belgard Elements
Let us make your weekend get-togethers and other special occasions more fun and memorable with our custom-designed outdoor fire features. A custom fireplace, for example, can bring ambiance and beauty to your backyard. These features add comfort and warmth to your outdoor experience regardless of the season. The addition of a fire feature to your outdoor living areas is a great investment for your social life and for the value of your home, because having such an area outside allows you to spend some quality bonding time with friends and family especially in the cooler months of the year.

We at JFK Company have the ability, skill as well as experience to build these structures to match your whole landscape. We work, methodically, ensuring that the overall aesthetic and styling of your outdoor living spaces is cohesive and seamless. We understand that it is only by your complete satisfaction that we can continue on with our success. We are the experts who leave no stone unturned in designing and installing Belgard fire elements. These products that we use are sourced from a leading manufacturer, so you are guaranteed of beautiful, everlasting in style, and durable products.

Below you can see our fine collection of Belgard Elements.