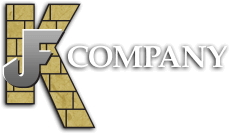 Pool Decks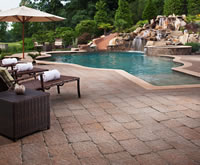 Having a pool in your backyard will definitely create a stunning focal point and increase the aesthetic appeal of your landscape setting. A great way to really finish off and add extra appeal to your swimming pool is with the addition of a pool deck. There are benefits of adding pool decks and it's not just for visual purposes but for functional ones as well.
One great function is that a pool deck can increase the amount of living space you have in your outdoor areas. If you have the space surrounding your pool, we at JFK Company can provide you with room to site and relax by the pool or even a place to entertain and have BBQ's.
Pool decks are very important when it comes to keeping your pools clean and free from debris. If you have grass or dirt surrounding your swimming pool, then you are likely to have to clean it more often. With a pool deck made from any type of material, you will be keeping your pools clean for longer.
We service Malibu, Westlake Village, Woodland Hills, Los Angeles, Hidden Hills, Calabasas, Tarzana, Brentwood and neighboring cities in the greater Los Angeles area.
Call Today! (818) 991-7283 or (805) 577-9507
We Can Design and Install Your Swimming Pool Deck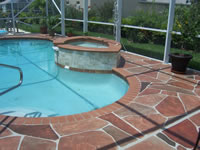 JFK Company can custom design and install your swimming pool decks throughout the greater Los Angeles CA region. We have been creating beautiful pool decks for our residential and commercial clients for many years. Feel free to check out our project gallery to see some of our pool deck creations.
We understand that every property is different and so are the needs of our clients. That is why our professional team of landscape designers and contractors are ready to take on any swimming pool deck you may have in mind. No job is too small or too large for us; we have the experience and the expertise to turn your visions into a reality.
Pool Deck Plans
The professional team at JFK Company uses only the latest and most advanced landscape design software to come up with your pool deck plans. This type of advanced software allows you to get a realistic visualization of your pool deck. You can also make all necessary changes before we have commenced the construction phase.
This great product can save our clients a lot of money that could be spent on making alterations on their pool decks once construction has already began. You will be able to see what the material and the colors you have chosen will look like and whether you think it will complement your existing home or business property.
Call Today! (818) 991-7283 or (805) 577-9507
Using the Best Pool Deck Products Such As Natural Stone Pavers
At JFK Company, we are proud to use the beautiful range of Belgard interlocking pavers. They are available in a wide range of colors, shapes, sizes and textures. This makes creating a unique pool deck so very easy to achieve. This range of concrete pavers is not only visually appealing but they are also durable and ideal for use as pool decks pavers.
We also have experience in using other paving products including natural stone pavers, such as travertine, bluestone, granite and limestone. Natural stone pavers are great for use around your swimming pool for they are able to withstand the effects of the outdoor elements including varying weather conditions like wind and rain.
So contact us today and we will get you on your way to having a beautiful pool deck.
Please call for a free consultation, estimate and references: (818) 991-7283 or (805) 577-9507
Or click here to request a free online estimate.