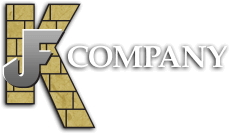 Putting Green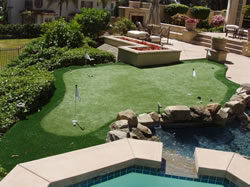 Dreaming of becoming the next Greg Norman or Tiger Woods? As they say, practice makes perfect, but going back and forth to your Golf Club is not only tiring and time-consuming, it's expensive, too! Wouldn't it be nice if you can enjoy round after round of short games right in your own backyard?
JFK Company can make that happen. We have been installing customized backyard putting greens in Agoura Hills and surrounding areas in California for many years. A educated golfer knows that a putting green is more than just a layout of grass. There are contours to be considered, as well as the tiers and the level of the putting surface relative to the fairway. This is why your regular landscaper is not the best one for the job.
JFK Company knows the relationship between turf and golfing performance. Golfing enthusiasts choose us because we offer experience, expertise, quality, professionalism, and workmanship. Every putting green turf that we install is built to the highest standard of playability and beauty.
We service Malibu, Westlake Village, Woodland Hills, Los Angeles, Hidden Hills, Calabasas, Tarzana, Brentwood and neighboring cities in the greater Los Angeles area.
Call Today! (818) 991-7283 or (805) 577-9507
Benefits of a Backyard Putting Green
Perhaps, you want to practice your short game. Perhaps, you want to provide a fun environment for your family. Whatever your reason is, you're making the right decision to have your very own putting greens installed by JFK Company. Nothing beats the convenience of being able to put and chip anytime you want without leaving your yard! Our home putting green can also boost the aesthetic appeal of your yard and the resale value of your property.
High Quality Synthetic Putting Greens
JFK Company installs professional-grade, UV-treated polypropylene synthetic putting greens that react like real grass. They hold pitch shots and check up on chips exactly like your regular tour golf course.
Moreover, our putting greens are:
Easy to maintain. Most golf courses have the resources to pay maintenance personnel to keep their greens in perfect condition. For homeowners who don't have the same resources, there's a more cost-efficient way of having a perfect surface all year round: artificial putting greens. Unlike real grass, our nylon greens don't require mowing, watering, aeration, reseeding, or other lawn maintenance tasks. They don't require infill, too, which gives you up to 60% savings over sand-filled greens.


Durable. We use top-quality greens from premier brands on the market. They are built to withstand foot traffic and all kinds of weather conditions.


Water resistant. Unlike real grass, synthetic putting greens dry off quickly, so you can get back to your game even right after a rain.


Versatile. JFK Company can lay the turf in any area you prefer – garden, balcony, or roof terrace.


Let us Install your Home Putting Green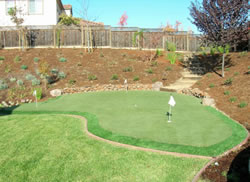 Whether you are a hobbyist or a pro golfer, we understand your unique needs and wants when it comes to your putting green. We will ensure that your backyard putting green will be built based on your specifications. For example, its contours will be customized to your preferred play or practice difficulty level.
Installing putting greens is a multi-step process that involves building the base, locating and setting the cups, preparing the artificial turf, and rolling the green. And with professional installers like us at JFK Company, you'll get your dream home putting green that is not only beautiful but will also last for years. Call us today for a free quote!
Please call for a free consultation, estimate and references: (818) 991-7283 or (805) 577-9507
Or click here to request a free online estimate.