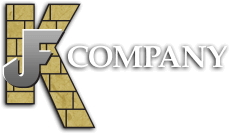 Paver Cleaning and Restoration Services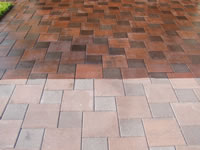 Even the top-of-the-line pavers that were laid down with utmost skill will show signs of wear and tear someday. Luckily, paver cleaning can improve the look of any paved surface. But older pavers require more than just sweeping, brushing, or washing. They require restoration services. Restoring them is a lot of work, but the result will be worth all the effort. No need for you to do anything. You just need JFK Company.
We service Malibu, Westlake Village, Woodland Hills, Los Angeles, Hidden Hills, Calabasas, Tarzana, Brentwood and neighboring cities in the greater Los Angeles area.
Call Today! (818) 991-7283 or (805) 577-9507
How to Clean Pavers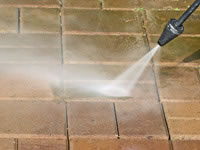 The basic paver cleaning requires only a stiff broom and a bucket of soapy water. Warm water is said to be better at cleaning, but it doesn't really matter. Sweeping floors will help loosen up the dirt build-up and get rid of those nasty mud and molds on surfaces.
Take note that any soap will do for brick paver cleaning. This is the most common type of paver used in California, anyway. However, for natural stones, you have to be very careful when using solution. Just get rid of acidic paver cleaning products on any stone paver, especially on travertine, marble, limestone, and sandstone. A strong cleaner can change their colors. And that will be a very ugly change that can never be reversed. Other than that, the process is just the same as on how to clean brick pavers the basic way.
Paver Cleaning and Sealing
Cleaning pavers must be performed on a regular basis, and it also requires sealing from time to time. There are many benefits of doing so than just leaving the surface without any top coat. A seal protects the color of pavers and keep dirt at bay. Best of all, sealed pavers look a lot better than the non-sealed ones.
It's also important to choose between coatings and impregnators. Coatings are sealants that simply coat pavers. Impregnators don't just coat but actually penetrate pavers. The latter provides longer-lasting protection and beautifying effect. The former is more inexpensive and easier to apply. Whatever you choose, these sealants are better than using nothing at all. Our team can recommend the best sealant based on the type of paver used in your property.
Call Today! (818) 991-7283 or (805) 577-9507
Paver Restoration is Also Important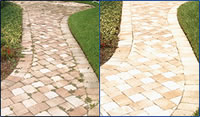 While sealing improves and protects pavers, it is not enough to stop their fading overtime. Traffic, weather, and other combining factors consume the elegance of a paved surface. The good thing is it's not without a solution. Paver restoration is the answer. Basically, restoration services are offered to bring back the beauty of pavers. The aim is to make pavers look like brand new. It's a lot of work, but it's possible.
Our company has already done brick paver restoration projects in some California cities. The process still involves paver cleaning and sealing. Simply add repair and you'll have the complete restoration package. We'll replace cracked paver pieces, fill grout, remove weeds, brush molds, and so much more. The exact steps will vary based on the needed restoration services by the paved surface.
Reliable Paver Cleaning and Restoration Services
People increasingly become aware of the pavers' advantages over competing materials. They're a form of investment that can last from generations to generations. Let our paver cleaners help maintain this important family treasure. We can set up a paver cleaning schedule for you or we can check the surface if it needs restoration services. JFK is not only a paver restorer--we also design and install landscaping elements using pavers. You are assured that dealing with us is dealing with the expert.
Please call for a free consultation, estimate and references: (818) 991-7283 or (805) 577-9507
Or click here to request a free online estimate.