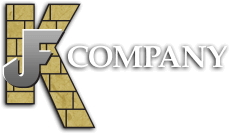 Pool Coping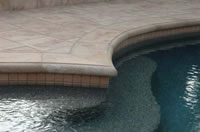 What is pool coping? Well it can basically be described as the framing around a swimming pool. It is the material installed on the edging of the pool between the tile line and the pool deck material. At JFK Company, we can install your pool coping for any size of swimming pool you may have, whether it is for a residential pool are or a commercial one.
For all of your pool coping and wall cap needs throughout greater Los Angeles, CA, contact the team at JFK Company today. It is recommended to leave just projects to the professionals so that it is done right the first time and will serve your pool and surrounding deck area well for many years to come. It really does play an important role.
We service Malibu, Westlake Village, Woodland Hills, Los Angeles, Hidden Hills, Calabasas, Tarzana, Brentwood and neighboring cities in the greater Los Angeles area.
Call Today! (818) 991-7283 or (805) 577-9507
Pool Coping Pavers from Belgard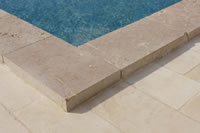 We recommend the use of Belgard's range of interlocking concrete pavers for your pool coping material. You will find that there is a wide range of colors, shapes and sizes to choose from which means that the design opportunities are endless. Belgard provides its clients with a variety of choice so that you can have the most unique looking pool area in the neighborhood.
There is no wonder that Belgard Pavers are the leading paver material in the country. Apart from guaranteeing you an aesthetically pleasing installation, you will also get a material that is durable and will last a lifetime. Our professional contractors will ensure that you are installing a slip resistant paver to make your pool surround a safe place for friends and family to relax and some real fun.
Travertine Pool Coping is a Popular Choice
One of the increasingly popular coping materials nowadays is travertine pool coping. This is due to the fact that travertine is a stunning looking natural stone and really complements any swimming pool because of its classic natural stone characteristics. You will have beautiful looking pool coping that is also extremely durable.
When it comes to your pool coping, natural stones like travertine, bluestone, granite and limestone are ideal materials. The main reason is that they are not man-made materials; they are natural stone that are basically built to survive the natural conditions of the outdoors.
Call Today! (818) 991-7283 or (805) 577-9507
Wall Caps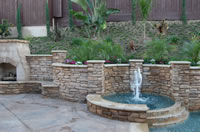 Wall caps can also be referred to as "wall coping". It is basically the material that is installed on the top of a retaining wall. It is like placing a "cap" on the top of the wall structure. Hence, the name, wall cap. At JFK Company, we will custom design and install your wall caps no matter how large or small your retaining wall may be.
A wall without wall coping can look really unfinished and dull. Let us finish off your walls with the addition of wall coping that is both aesthetically pleasing and adds protection. Without coping, your wall will be facing the elements and the effects of erosion. So if you want to preserve the look and the function of your masonry walls, then we recommend the addition of wall caps.
Contact JFK Company today and we will provide you with all the assistance you need to install the perfect pool coping and wall caps for your swimming pools and retaining walls.
Please call for a free consultation, estimate and references: (818) 991-7283 or (805) 577-9507
Or click here to request a free online estimate.