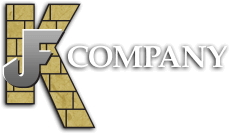 Stair Treads and Step Treads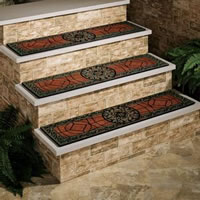 Steps and stairs can become the focal point of any area. They're big and useful enough to catch attention, especially if you choose step treads and stair treads that are extraordinary.
With JFK Company, designing and installing the perfect tread will be easy. We have already exhibited excellence in handing paver installation in California, and installing stair treads is also one of our specializations.
We service Malibu, Westlake Village, Woodland Hills, Los Angeles, Hidden Hills, Calabasas, Tarzana, Brentwood and neighboring cities in the greater Los Angeles area.
Call Today! (818) 991-7283 or (805) 577-9507
Treads for Steps and Stairs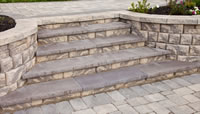 Some people call them steps while others refer to them as stairs. Technically speaking, stairs are the sides or the walls of a completed structure. That's why they are commonly called "staircases." Meanwhile, steps are technically the riser and tread. Riser is the vertical part that supports the tread, which is the flat panel that is stepped on.
People may not agree on the confusing definition. But we all agree that treads are important for their visibility and functionality. For the purpose of this discussion, we'll define the step treads as those used in the outdoors while the stair treads are those used indoors. Our recommendation depends on whether it will be used outdoors or indoors, since there are varying needs for these two environments.
Varieties of Tread Materials
Stair treads and risers can be made out of any material. The same goes for steps. But there are highly recommended varieties for outdoors and indoors.
Hardwood Stair Treads. Some varieties, especially teak wood, are ideal as stair treads outdoor. Most wood treads are better left indoors, though. We use hardwood for its durability. If you prefer, we can also use it for stair tread covers.


Concrete Stair Treads. Concrete treads can be used indoors, but they are better used for outdoors. And don't worry about the boring grey color because newer technologies and design methods are now offering vibrant finishes for concrete stairs.


Pavers. These materials are more durable and more sophisticated than concrete and ideal for both step and stair treads.


Stones. Marble, granite, and limestone are just few of the stones used for step treads. Such materials add a touch of elegance, whether used indoors or outdoors.


We'll help you choose the best variety to complement your style and the area's overall look. Better yet, choose custom stair treads if you now have the perfect variety in mind.
Call Today! (818) 991-7283 or (805) 577-9507
Quality Installation Of Your Treads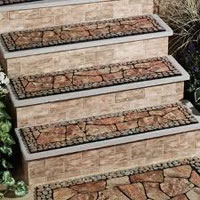 Aside from the aesthetic appeal, treads need to posses certain practical qualities. Our team prioritizes the use of non-slip stair treads or what others call as anti-slip stair treads. They are installed for easier and safer walk. However, safety stair treads don't need to be ugly. There are still beautiful varieties to choose from. Of course, indoor or outdoor stair treads must be resilient. They receive torture on a regular basis, so they must be made of durable materials.
JFK Company knows exactly what you need, whether it's for installation or for replacing stair treads. It's time to get the help of professionals for this project. Call us for more information or for free estimates and consultation. We provide quality installation of treads and other landscaping services for Southern California properties.
Please call for a free consultation, estimate and references: (818) 991-7283 or (805) 577-9507
Or click here to request a free online estimate.