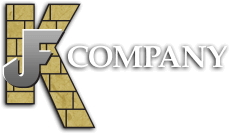 5 Most Popular Natural Stone Pavers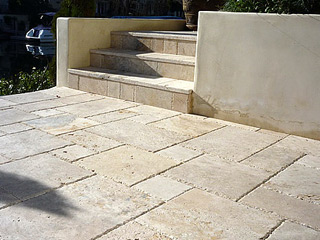 Natural stone pavers have been a popular choice for outdoor hardscaping for centuries. They offer a range of benefits, from durability and low maintenance requirements to the natural beauty and unique character that comes with using a natural product. At JFK Company, we offer various services, including paver installations.
Types of Natural Stone Pavers
Many of our clients ask us whether natural stone pavers are good for outdoor living areas. They also want to know which types of pavers they can choose for specific locations. Here are the 5 most popular natural stone pavers.
Travertine Pavers
Travertine pavers are popular for outdoor patios, walkways, and pool decks. They offer timeless elegance and are available in a range of colors, textures, and sizes. Travertine pavers are known for their durability and versatility, making them an excellent choice for high-traffic areas and locations that see a lot of water. They have a permeable surface that permits water to seep into the ground, keeping the surfaces cool to the feet. Residential and commercial poolscapes can benefit from travertine paving.
Bluestone Pavers
Bluestone is a popular material for various outdoor settings on residential and commercial properties. Bluestone pavers are made from a dense, blue-grey sandstone that is naturally weather-resistant and durable. They are known for their unique color and texture, which can add a touch of rustic charm to any outdoor space, making them suitable for traditional and modern aesthetics. Bluestone pavers are ideal for use around pools and in other wet areas due to their slip-resistant surfaces and attractive appearance that complements various materials like ceramic tile and brickwork.
Flagstone Pavers
Flagstone pavers are made from large, flat pieces of natural stone split into uniform sizes and shapes. They offer a unique, natural look that can complement a range of architectural styles. Flagstone pavers are available in various colors, including grey, tan, blue-grey, and red. They are popular for patios, walkways, fire feature zones, and other entertainment and leisure areas in a yard or landscape.
Granite Pavers
Granite pavers are strong, attractive, durable, and resistant to wear and tear. They are available in varied colors and sizes, making them a versatile option for a wide range of outdoor spaces. Granite pavers are a perfect choice for high-traffic areas, as they can withstand heavy loads without cracking or breaking.
Porcelain Pavers
Porcelain pavers are a relatively new option in the world of outdoor hardscaping. They offer the look and feel of natural stone with the added benefits of low maintenance and high durability. Porcelain pavers are available in assorted colors and finishes, making them a versatile option for outdoor spaces. They are also slip-resistant, making them an ideal choice for areas around pools and other wet areas.
Natural stone pavers offer a range of benefits for outdoor hardscaping projects. Whether you are looking for durability, natural beauty, or low maintenance, a natural stone paver is right for you.
Superior Paver Installation Services
We can handle natural stone paver installations on residential and commercial properties. We can also send over a representative to your location, who can answer any questions you have and provide you with more information about our services, including paver installation and more,
Please call the JFK Company team at 800-392-7283 or 805-577-9502 for more about our high-quality outdoor paving services. You can also use this Contact Us form to submit requests or questions about our services. One of our specialists will contact you as soon as possible to discuss your needs for different types of natural stone pavers.